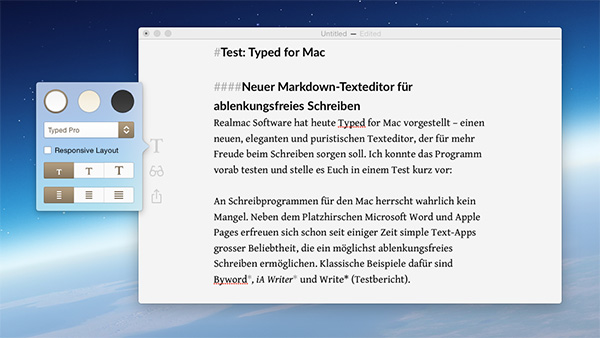 New Markdown-powered text editor for distraction-free writing
Realmac Software
today released
Typed
for Mac: a new sleek and puristic text editor that sets out to reinstate the joy of writing. I was able to preview the app and am going to walk you through.
There really is no shortage for text editors on the Mac. In addition to the predominant Microsoft Word and Apple Pages, minimalistic writing apps that create a distraction-free environment enjoy a huge popularity. Classical example for these types of the trade are
Byword
*,
iA Writer*
and
Write*
.
Instead of saving your documents in rich text format this new brand of apps are using plain text (.txt). The obvious advantage is that these files are not software-proprietary any more and can be opened, edited and saved by every text-editing app on this planet. To code rich text features into plaintext files an easy to learn syntax called
Markdown
is used. Exporting to various formats such as RTF, HTML or PDF then creates beautifully styled documents and web content.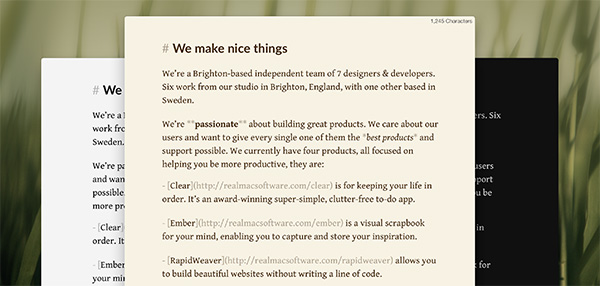 From the beautiful bathing spot Brighton / UK
Dan Counsell
and his
Realmac team
with
Typed
launch another Markdown editor into the already well-populated field. The app is minimalistic to the extent of being curious about whether there are any features at first, but upon moving the cursor to the left border the preferences appear.
Here settings such as background color and font type as well as the optional HTML preview and several options for exporting are revealed. The fonts choice is limited to Avenir Next, Courier, Georgia, Helvetica Neue and Menlo. In addition to these a mixture of Hoefler for headings and Baskerville for paragraphs is activated via the "Typed Pro" setting.
Typed supports the usual Markdown features and keyboard shortcuts as well as automatic document saving. The font size can be either adjusted stepwise or automatically adapted to the window size. Entering the beautiful full-screen mode with its semitransparent backdrop does not only look gorgeous but also has a calming effect.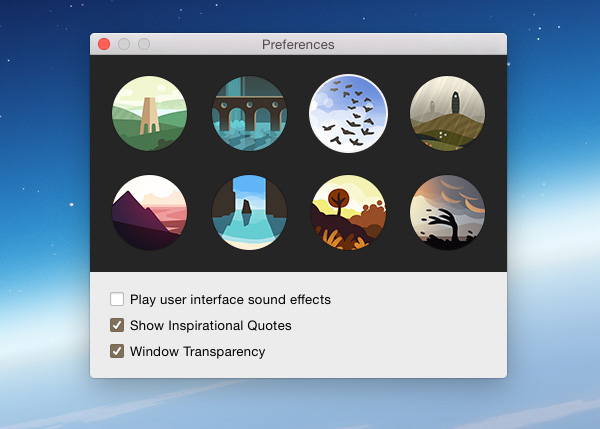 As a special bonus feature for stressed authors there is also a "Zen mode" at your disposal. In addition to the semitransparent backdrop soothing ambient noise is activated here, giving you the choice between eight different sound tracks. Thankfully all of these feats disappear as quickly as they can be activated.
If so desired the app welcomes you with quotes of famous authors, that automatically disappear when the first words are entered. Typed clearly aims for increasing the joy of creative writing – it is the choice of the user to make a selection of features that truly create a productive environment. For some all of this might be nothing but unnecessary playfulness and distraction.
Typed currently is only available for the Mac. iOS counterparts are not on the timeline. In spite of this the documents created can be effortlessly synced to your cloud solution of choice, be it iCloud drive, dropbox etc. as well as opened in any other local or mobile app.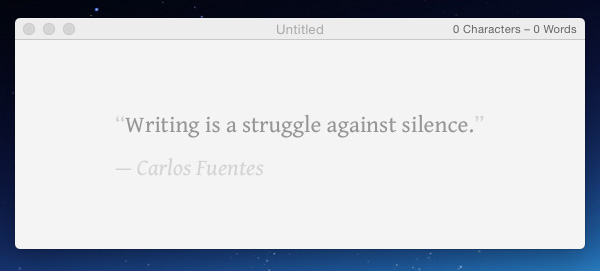 Pros and cons
Advantages
+ Minimalistic interface
+ Easy handling
+ Good typography
+ Responsive Layout
+ Comfortable full-screen mode
+ Zen mode
+ HTML preview via single click
+ Live word and character counts
+ HTML and RTF export options, pdf via the OSX print interface
+ Intelligent cursor placement
+ Support for the usual keyboard shortcuts
+ Automatic document saving
Shortcomings
– Only limited Multi-Markdown support
– No outline option
– Somewhat playful details
– Mac-only, without complementing iOS counterparts
– Not that cheap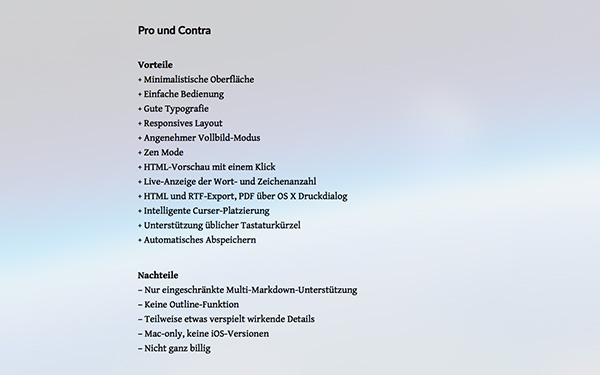 The verdict
With its sleek and minimalistic interface as well as some neat options for individual adjustment Typed graces the saturated markdown editor landscape with its presence. Serious authors might turn up their noses towards some of the features, but in spite of this (or just because of that) Typed really is definitely fun to write with.
The best-suited application scenario might be blogging and writing of short notes. Since outline functions are completely missing the navigation of longer texts might turn out to be an inconvenient struggle. Apart from this caveat handling is comfortable and fast while looking splendid. For users interested in these specs a second glance or even trying it out might be worthwhile.
Rating
Typed for Mac



Very good

Prices and availability
Typed for Mac
requires you to run at least OS X 10.9 Mavericks (or newer) and is only retailed via the
Realmac Store
for $29.99 / €25,20. A 7-day
trial version
is available as well.
Related articles
First Look: Ulysses 2 for Mac and iPad
Review: 2Do for Mac and iOS
Review: Using DuckDuckGo as default search engine
*Ads and affiliate links: By ordering products through ads or links marked with an * on this page, we receive a small provision. You are thereby actively contributing to the continuity of GeekOut.io.


Screenshots: Thomas Landgraeber
Author & Editor: Thomas Landgraeber; Translation: Mathias Rhein