What benefits does the special Mastering provide?
Apple wants to improve sound quality of its iTunes content and provides new
Audio Tools
to all providers. With these tools audible loss of quality should be reduced to a minimum during the recoding into the Apple iTunes Plus AAC format. All media coded in this manner are optimized for being played on Apple devices and are labeled with the
"Mastered for iTunes"
tag in the store. What is the advantage for the consumer and what do musicians and producers have to pay attention to?
What are we dealing with, precisely?
Technical development is progressing unceasingly. Most remarkably though, when it comes to audio playback of content, for most of us the development regressed in terms of quality. Instead of CDs we are listening to files coded in lossy formats like MP3 and AAC, such as all the major online music store like Amazon, Apple, Musicload and the likes are offering.
Even if the quality in general appears to be convenient enough for most of the listeners, there is plenty room for improvement. Apple again takes the lead in development, starting its own initiative for a better listening experience. Here no new formats are introduced that are using more space on devices. Instead, producers are encouraged to make optimal use of iTunes Plus.
Turning Hi-Res into Lo-Fi
Music projects usually are produced at least in "CD quality", meaning 16 Bit / 44.1 kHz. Since the beginning of this Millennium there is an increase of Hi-Res audio content production. Nowadays 24 bit / 96 kHz are common industry standard. Many even use 24 bit / 192 kHz for production. Recordings in such high fidelity usually convince even the most discerning listeners.
Why this effort? The higher the starting material, the better will be the end result. In the process of merging many individual channels of a song into one stereo master mix one is really happy with every little detail that survived the process. It is a pity that only bits and pieces of the previously abundant riches of sound remain in the final version.
Even to sell the music on a conventional CD the music has to be reduced to a data rate of 1411 kBit/s, which is what this particular standard requires. If the production is HD, dithering and downsamling is due anyway. A lot of detail therefore is lost in the process already.
Compared to the torture master recordings have to go through to comply with iTunes Store prerequisites, the previously mentioned process is a walk in the park. Here, recording get compressed to a rate of merely 256 kBit/s – that means a fifth of CD quality. This more often than not results in a glassy, even annoying sound without any plasticity or real brilliance.
Possible workarounds
Ambitious audiophiles are requesting for some time now that Apple should release all songs with a choice between lossless formats such as FLAC or Apple Lossless.Such codecs offer full CD audio quality compared to AIFF files while still reducing the space required by 50 percent.
Real HiFi enthusiasts could possibly be willing to pay premium for these formats, provided that the quality matches the original recordings. Whether Apple will provide lossless content with CD-comparable specs remains to be seen. The reason issued by Apple: low demand.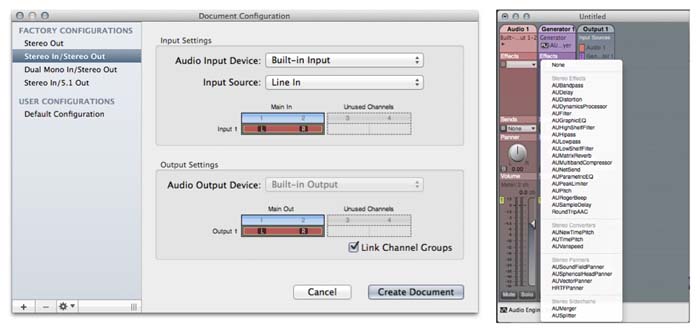 The Apple way
In Cupertino the plans for the years to come appears to be different. As long as the space is scarce on mobile devices and the majority of customers has a hard time perceiving any difference between CD or AAC and MP3-coded audio files, there is not much sense in providing respective offers.

With ongoing technical progress customer expectations regarding sound quality will increase. Eventually, Apple will wait for a short while and will then completely make the switch to high definition content. Catch phrases like "Full HD Audio" or "Hi-Res" will definitely sound better than "finally up to par with your CD from 1983".
Maybe even in a few years there will be lossless audio codecs available that will wrestle gigantic amounts of Hi-Res data down to bearable drivespace real estate costs on mobile devices.
Until that day will be here, Apple improves AAC-coded sound with comparably simple methods. "Mastered for iTunes" is an initiative for content providers to achieve better audio quality through the application of simple tools.alitätsinitiative, mit der Content-Anbieter auf einfache Weise ein vertretbares Klangniveau erzielen können.
What is the user benefit of "Mastered for iTunes"?
Using the slogan "Music as the artist and sound engineer intended" Apple is derailing from the fact that good mastering and professional production for the respective target format should be standard.
Sadly, reality looks different. Thanks to high economic pressure only big productions can actually afford real mastering staff with state-of-the-art infrastructure. Nowadays most songs are mastered by musicians, producers and parts of the crew themselves. Sometimes an associated sound engineer is ironing out the worst glitches for a friendly price or favors of any kind.
The tracks therefore not always are meeting the special requirements necessary for high data compression. This is where Apple jumps in with "Mastered for iTunes" as it puts
technical guidelines
and audio mastering tools at disposal. The resulting productions are automatically qualified and are presented in a
special section
of the iTunes Store.
Whether this initiative will really lead to noticeable sound improvements remains unclear. After all, these tools won't do miracles. Mediocre recordings and blurred mixes won't magically improve in the process. Merely damage caused by heavy compression will be lessened.

What should musicians, producers and sound engineers pay attention to?
Apple recommends production with at least 96 kHz / 24 bit. The Apple Audio Mastering Tools are specially laid out to compress HD material in a two-step process: to avoid loss of quality during conversion a 32 bit intermediate file is generated which is then converted into a iTunes Plus AAC master file.
The procedure applied is designed to ensure high fidelity optimized especially for playback on Mac, PC and iOS devices. A 10 page
PDF documentation
explains the details.
The Apple Audio Mastering Tools consist of three components. AURoundTripAAC is an Audio-Unit-Plugin that enables playback comparison between original audio file and the AAC version. It also visualizes max levels and potential distortions. This plugin can be integrated into many Audio-Unit-compatible Host applications.
For people not owning any apps to monitor such progress there is AU lab, which is part of the Apple developer tools packages. Users working on older Mac operating systems (e.g. Snow Leopard or older) can retrieve and install developer tools from the accompanying installation DVD.
Finally iTunes Master Droplet, shipped with the new Mastering Tools, is enabling a seamless workflow. Premasters can simply be dropped onto it, the respective host application starts automatically. The third component is afclip- a little command line tool for fast discovery of clippings.
Apple is not forcing users to implement its Mastering Tools per se, but is strongly recommending them to everyone planning to offer music in the iTunes Store.
Related articles
The truth about AirPlay audio streams
How to delete data from iCloud
How to move TimeMachine to another hard drive
*Ads and affiliate links: By ordering products through ads or links marked with an * on this page, we receive a small provision. You are thereby actively contributing to the continuity of GeekOut.io.


Cover picture: Apple Inc; Screenshots: Thomas Landgraeber
Author & Editor: Thomas Landgraeber; Translation: Mathias Rhein