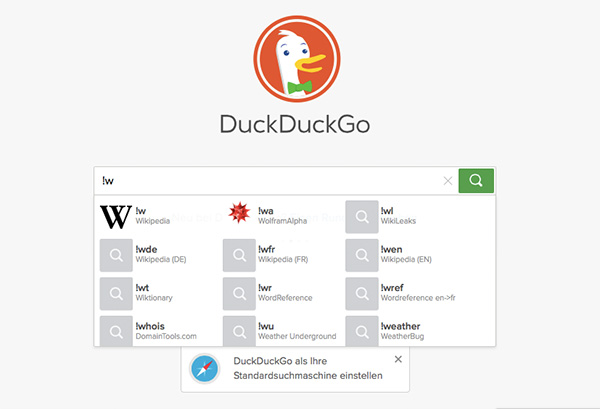 The real altenative to Google Search?
Google is the world's most famous internet search engine. However, meanwhile some viable alternatives appeared on the market.
DuckDuckGo
is advertizing that by using their service, customers will
not be tracked or followed
. This feature alone might be a convincing argument for changing already, but the company is packing some additional goodies on top.
DuckDuckGo made considerable progress in recent years. While search result quality is still one step behind the bigger brother (pun intended) Google search, for day to day requests it appears to be totally sufficient. In addition DuckDuckGo is shining with some really helpful features missing with the competitors.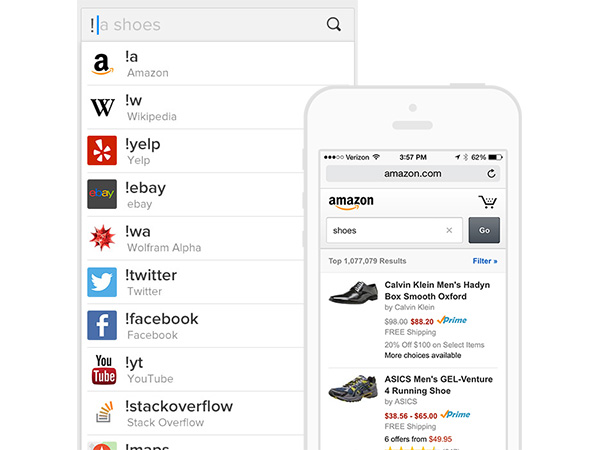 !bang Operators
The specialty of DuckDuckGo are so-called
!bangs
. By adding the exclamation mark in addition to some predefined letters helps limit search to a particular company or web service. Results are then instantly accessible through the Results page.
So next time you want to look up something in wikipedia, simply type
!w
in addition to the
search phrase
without ever making the effort of switching to the wikipedia site. For amazon that would be
!a
,
!yt
searches youtube and so on. Here's some further examples:
•
!a
– Amazon
•
!apple
– Apple
•
!ebay
– eBay
•
!imdb
— IMDb
•
!m
— Google Maps
•
!wa
— Wolfram Alpha
•
!w
— Wikipedia
•
!yelp
— Yelp
•
!yt
— YouTube
There are already
thousands
of !bang operators around and consecutive combination offers you the best results. In case DuckDuckgo proves unsuccessful you can easily switch to an inline google search- with the respective !bang as you might have guessed:
•
!g
— Google Search
•
!i
— Google Images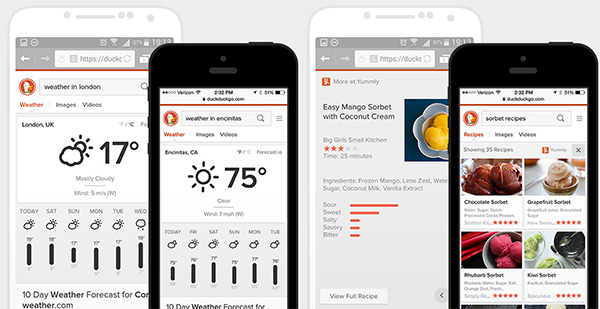 Other features
DuckDuckGo is full to the brim with helpful features. It solves calculations, has a random generator for passwords and converts currencies. Small web applications such as
calendar
and
stopwatch
are also standing by in the search bar. Long URLs can be shortened via the "shorten" operator and short ones restored to their original size via
expand
.
Search also expands to popular social networks without effort. Should you for instance enter
!linkedin
,
!facebook
or
!twitter
together with a contact name, the search engine will retrieve matching contact information. Usual
Query Modifiers
such
site:
are supported as well, thereby most effectly combining the toolset to limit search to the relevant area of the internet.
Of course DuckDuckgo can be directly investigated for images, news, videos as well as places. Region and language preferences can be saved as well as some interface themes to make DuckDuckGo blend in with your personal style. A short
tutorial
is introducing the most important features when you start out with the new search experience.
Tip: Use DuckDuckGo as default search engine
Firefox and Safari users can conveniently set DuckDuckGo as the default search engine from the
main page
.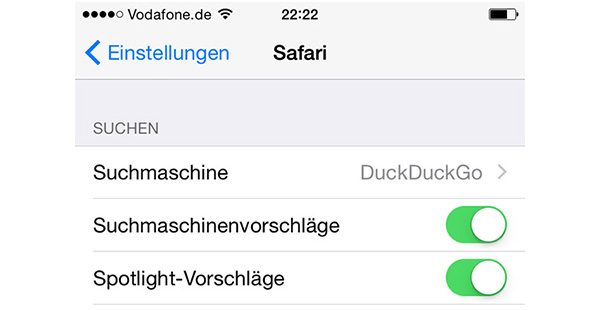 Apple users on iOS can also conveniently choose between Google, Yahoo, Bing and DuckDuckGo as the main source of search results. The respective option is found in the Settings App under the Safari preferences. On OSX the same option is located under "search" in the browser preferences.

Summary and Verdict
DuckDuckGo is respecting the privacy of users while letting nearly all the search engine dreams come true. The optional search engine is well-suited for everyday search duty. Should the results not satisfy the need, just add !g to do a google search with good old Google without leaving the safe environment. For my search needs the Duck already almost completely replaced the big G!.
Rating
DuckDuck Go



Very good
More info
DuckDuckGo Main page
DuckDuckGo Features
Related articles
First Look: Ulysses 2 for Mac and iPad
Review: Typed for Mac
Review 2Do for Mac and iOS

*Ads and affiliate links: By ordering products through ads or links marked with an * on this page, we receive a small provision. You are thereby actively contributing to the continuity of GeekOut.io.

Pictures: DuckDuckGo; Screenshots, Author & Editor: Thomas Landgraeber; Translation: Mathias Rhein