15/05/01 04:57 PM Filed in:
News
| Tips & Tricks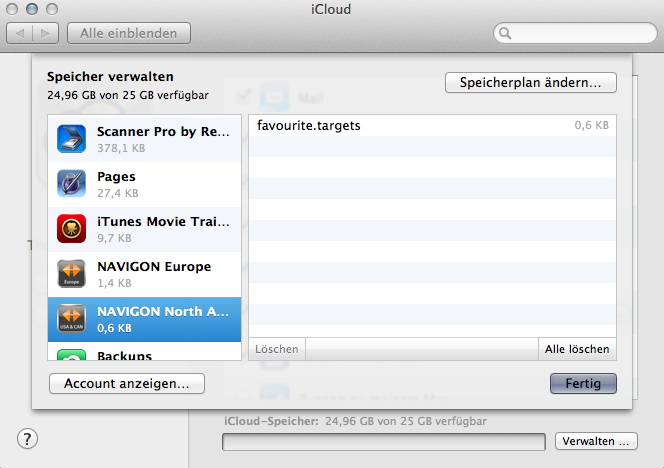 Tidying up the cloud – the right way
Some apps for iOS and OSX are saving their files directly to iCloud – which is really feasible, thereby also creating an external backup. Nevertheless (or: just because of this) it makes sense to review the data stored in the cloud from time to time and do some regular cleaning. The easiest way to accomplish this is via System Preferences on OSX- and it goes like this:
Cleaning Manual
1. Click on"System Preferences" option in the  menu
2. Choose "iCloud"
3. Choose "manage" in the lower right of the appearing window
4. Pick the app to investigate
5. Highlight all elements you want to remove
6. Click on delete
7. To remove all data from one particular app, choose "delete all"
Serious Considerations
Please be aware that the data in question will not only disappear from your Mac, but from all other device accessing iCloud through this app. Since this procedure is not reversible caution is recommended with every single file treated this way.
Double-checking
If in doubt, open the document in question with the respective app in order to assure it is superfluous, indeed. Sadly neither is this possible to open files from the System Preferences nor can you preview them from there. For a more comfortable handling of iCloud storage tools like
Cloud Mate
are available.
Bonus Tip
There can be many different reasons for tidying up the iCloud. In most cases neglectible data collects there that can be deleted safely. Should deleting be necessary out of cloud space shortage (while reaching the limit of free 5GB) it might be worth considering a paid storage upgrade or the partial relocation of data to other storage providers.
Related articles
How to move TimeMachine to another hard drive
Speed up starting your MacBook
How to prevent password request in iTunes
*Ads and affiliate links: By ordering products through ads or links marked with an * on this page, we receive a small provision. You are thereby actively contributing to the continuity of GeekOut.io.


Screenshot: Thomas Landgraeber
Author & Editor: Thomas Landgraeber; Translation: Mathias Rhein