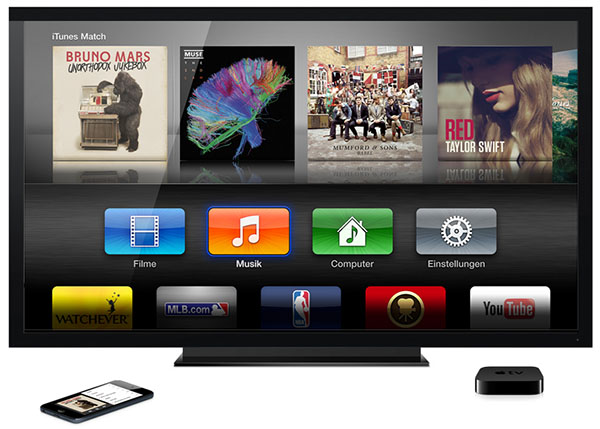 How good is remote audio quality really?
Legends and myths are deeply ingrained into Apples DNA and associated with all products, even after launch. The new category
Knowledge
contains easily comprehensible posts dealing with technical troubleshooting and questions. We start with
AirPlay
audio streaming. Is it really true that music is streamed in reduced quality? The short answer is: No.
What is AirPlay?
AirPlay enables you to wirelessly transmit music, photo and video content from compatible Macs and iOS devices to AirPlay-enabled hardware. This includes the AppleTV and the Airport Express WLAN station but also third party accessory that licensed the streaming technology from Apple. Here AirPlay is directly integrated so that no additional hardware is necessary.
AirPlay also enables you to share the current screen contents with other hardware in order to e.g. display web sites or games on a bigger screen (Mirroring). Since OS X 10.9 Mavericks you can also connect a TV screen as a secondary display for your Mac (Dual Screen or Extended Desktop)
How does this work?
AirPlay uses regular WiFi standards (802.11n) for transmission of audio and video content. Against initial speculation this process is not limited to Apples Airport station, third party routers equipped with this protocol can handle the streaming without complications. The only predisposition necessary is that all participating hardware is on the same WLAN network.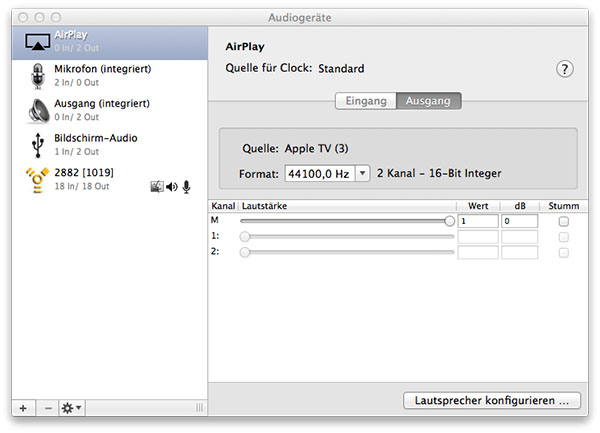 What is the audio quality for this type of transmission?
In contrast to Bluetooth connections, which sometimes lead to downsampling and loss of quality, AirPlay is transmitting "CD quality" audio (16bit / 44.1kHz). This can easily be verified with the Audio Midi Setup tool that is located in the Utilities folder in your app directory.
For streaming content Apple is using the in-house
Apple Lossless Audio Codec
(ALAC). Here data density is permitted for up to 120 megabit per second. No matter what format the audio originally coded, your Mac or iOS gadget will turn it into a lossless audio stream. Only so-called "Hi-Res" Audio formats used by pros and audiophiles with higher resolution (e.g. 24 Bit / 192kHz) will be down-sampled to 16 Bit / 44.1kHz.
Video playback with tricks
Video streaming is tricked out by Apple. Audio tracks in videos are generally sampled in 48kHz. The AirPlay specifications state that audio needs to be down-sampled to 44.1 kHz for remote playback. The subjective audio quality itself is only decreased minimally. Most of the video content available online is limited to 160 kBit/s transmission rate for audio. This also applies to movies and TV series on the iTunes Store.
Related articles
What you need to know about "Mastered for iTunes"
How to delete data from iCloud
How to move TimeMachine to another hard drive
*Ads and affiliate links: By ordering products through ads or links marked with an * on this page, we receive a small provision. You are thereby actively contributing to the continuity of GeekOut.io.


Cover picture: Apple Inc; Screenshots: Thomas Landgraeber
Author & Editor: Thomas Landgraeber; Translation: Mathias Rhein