OmniFocus
is a task manager with David Allens
"Getting-Things-Done"
methodology written allover its DNA (GTD). While most task juggler dreams come true using the app, one of the biggest drawbacks has been slow synchronization speed between connected devices. This blemish is about to be reduced significantly by the Omni Group through introducing
Push Sync
, a function that is currently in beta. We show you how to further enhance your sync experience.
Sync options
OmniFocus offers two options for data exchange among devices: Either the home-built and free-of-charge
Omni Sync Server
, or via setting up your own self-administered WebDAV server. The less laborious choice of course is the Omni solution. After providing the obligatory email/password combination no further actions need to be taken as the sync will happen automatically in the background.
But alas, Omnis servers are mostly located in the US and Central Europe, which makes synchronization speed depending on routing performance. Also, sync speed itself is not the most breathtaking OmniFocus feature anyway when it comes to performance. Some users therefore happily use their own WebDAV like
ownCloud
or
GMX
or use their own server for synchronization. However, setup and maintenance of such home-brew implementations is a labor- and time-intense business where inexperienced users have a hard time due to the steep learning curve.
Faster sync through push service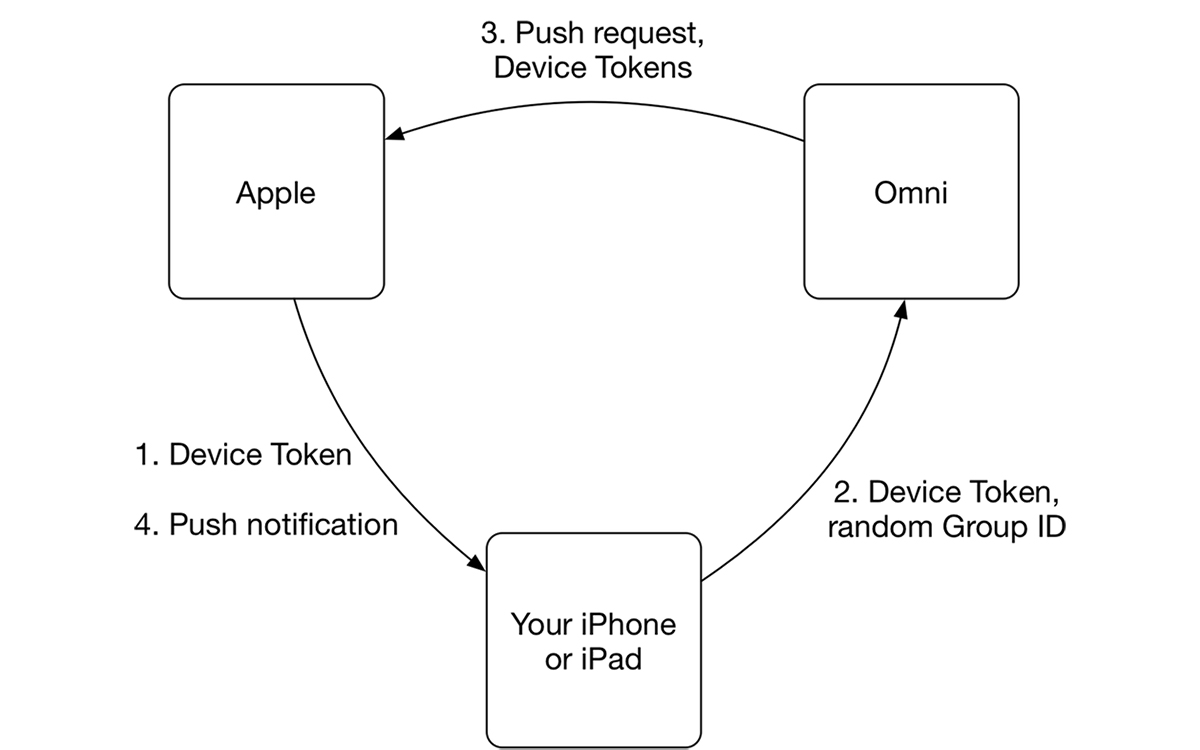 To open up this possibility to the technically less elaborated the Omnigroup recently introduced push sync. Interestingly, this beta feature is not limited to Omnisync users but open to all modes of file exchange, e.g. WebDAV services. Technically, the sync routine remains the same, but frequency is now input-dependent and therefore more instant. Details for this can be found in the
support section
of Omni websites.
We would like to round up the announcement of this exciting possibility with some practical tips to make the most out of OmniFocus sync and thereby speed up data exchange.
1. Activate push synchronisation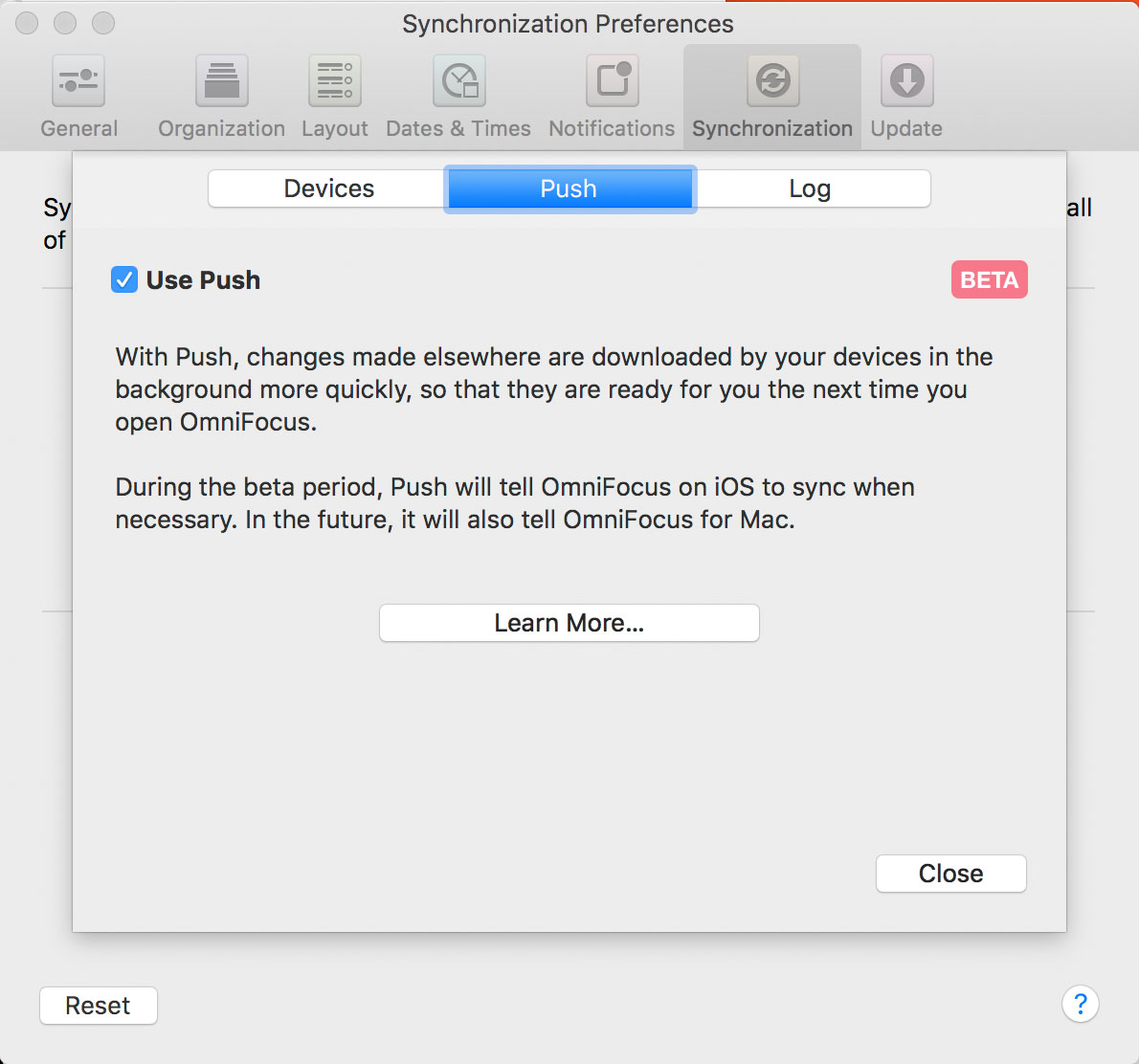 With the push feature currently being in beta, as of now it still is only available on iOS versions. On the Mac availability currently is limited to the prerelease-versions of 2.3 which is announced to be released to the public in autumn of 2015. As of now the Mac app is anyway syncing fairly frequent, so that data exchange will be faster in general. With the fall release push will be native to all versions and directions of exchange.
To make sure that the push function is active on iPhone and iPad, open OmniFocus and go to
Settings / Push
. Here further information as well as the activation switch is available. Should synchronization be spotty it could prove helpful to initiate push. To do this activate the additional button as depicted below: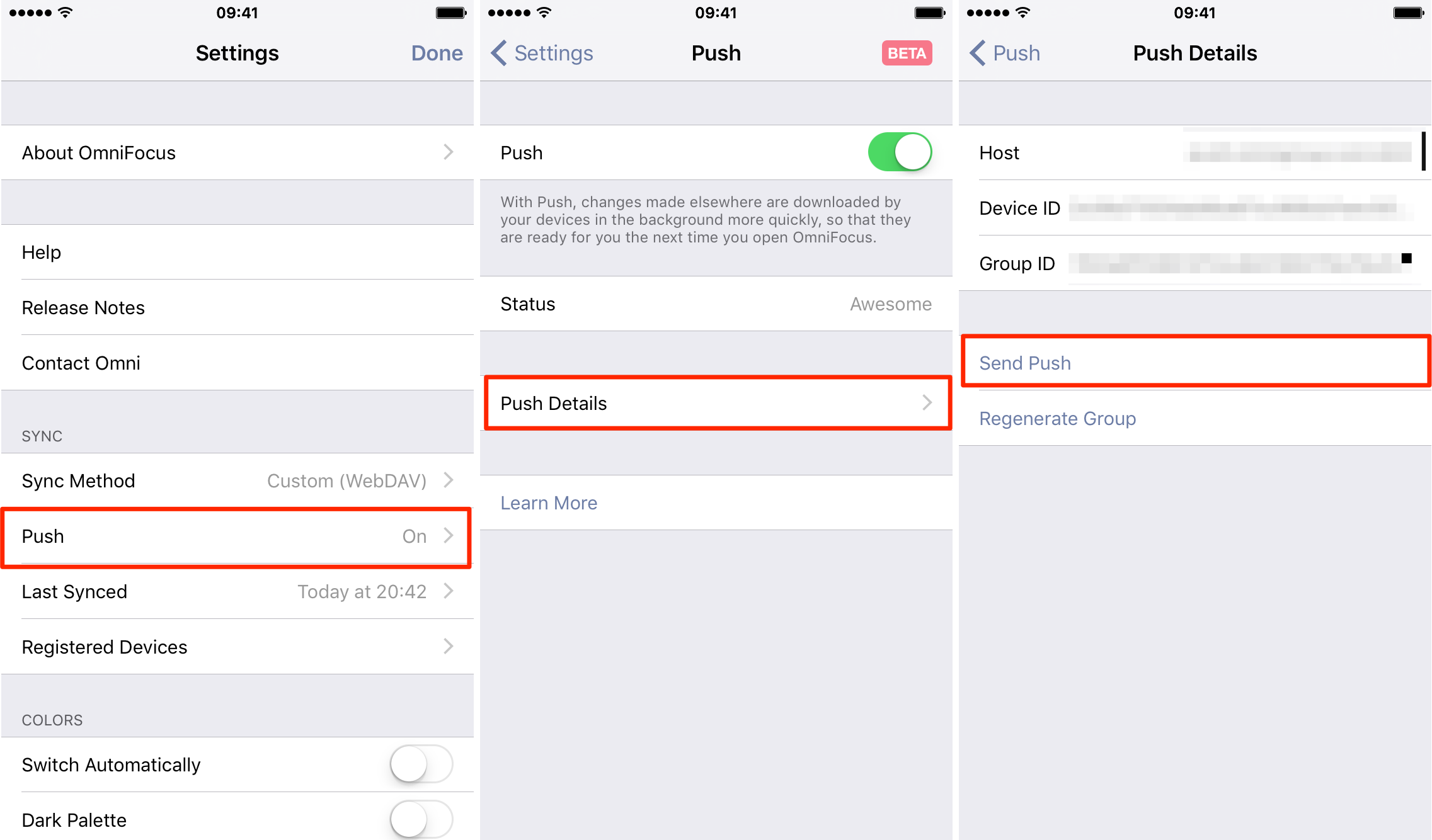 2. Exclude unused devices from sync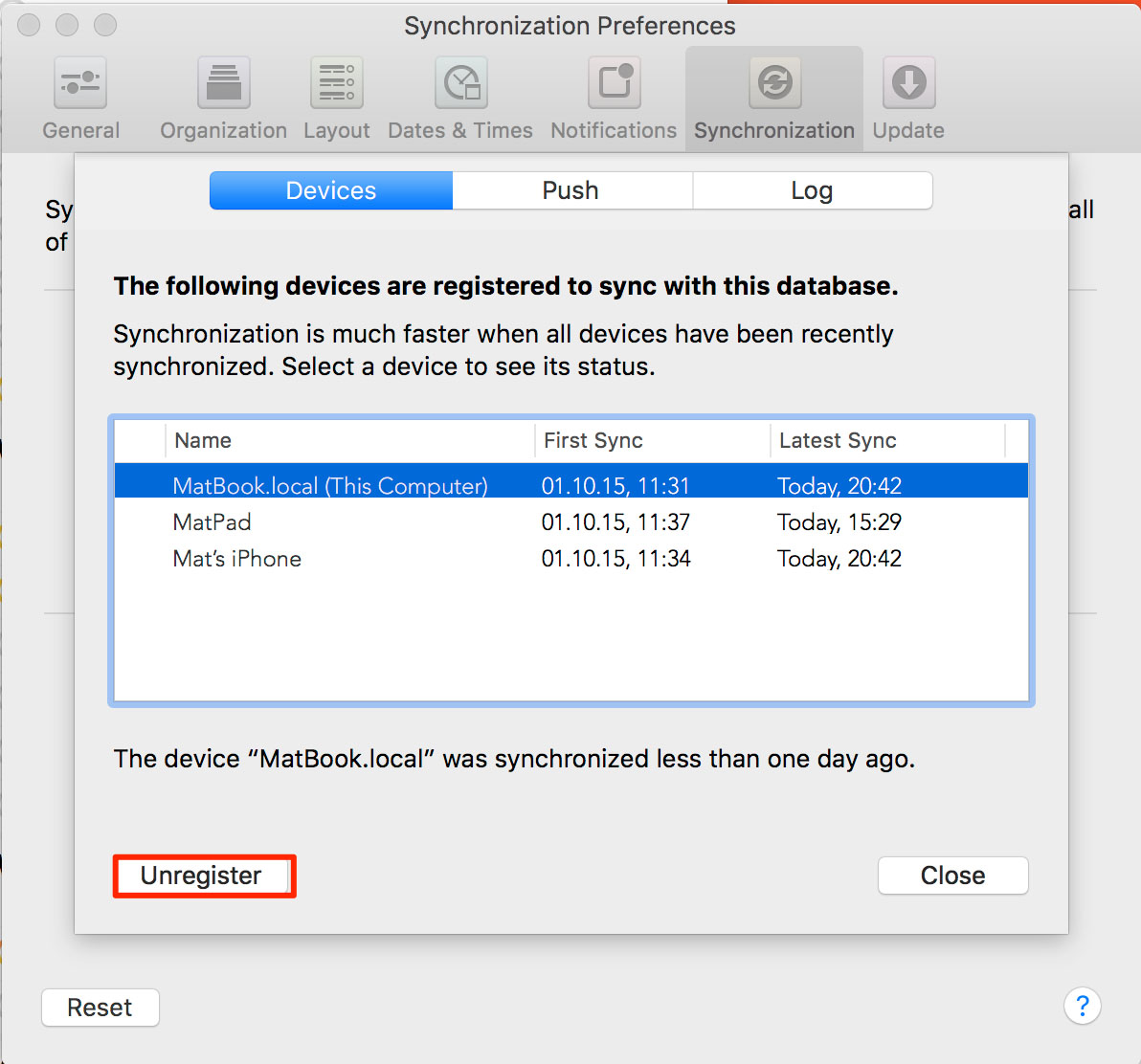 Another potential reason for slow sync performance: Omni themselves are repeatedly stating that limitation of sync exchange to few frequently used devices is critical for increased speed of this service. It therefore proves useful to completely remove not or infrequently used devices from the exchange list.
On the Mac this can be easily done by accessing
Settings
via the menubar or
Cmd+
shortcut and picking the
Show Sync
Details
button in the
Sync
section. After some refreshing time all devices currently participating in sync are listed and can be removed at will by marking them and then pressing the now available
Unregister
button (see previous screenshot).
Depending on the current network speed this process can take some seconds until the selected device disappears. From that moment on only the remaining devices will participate in sync exchange.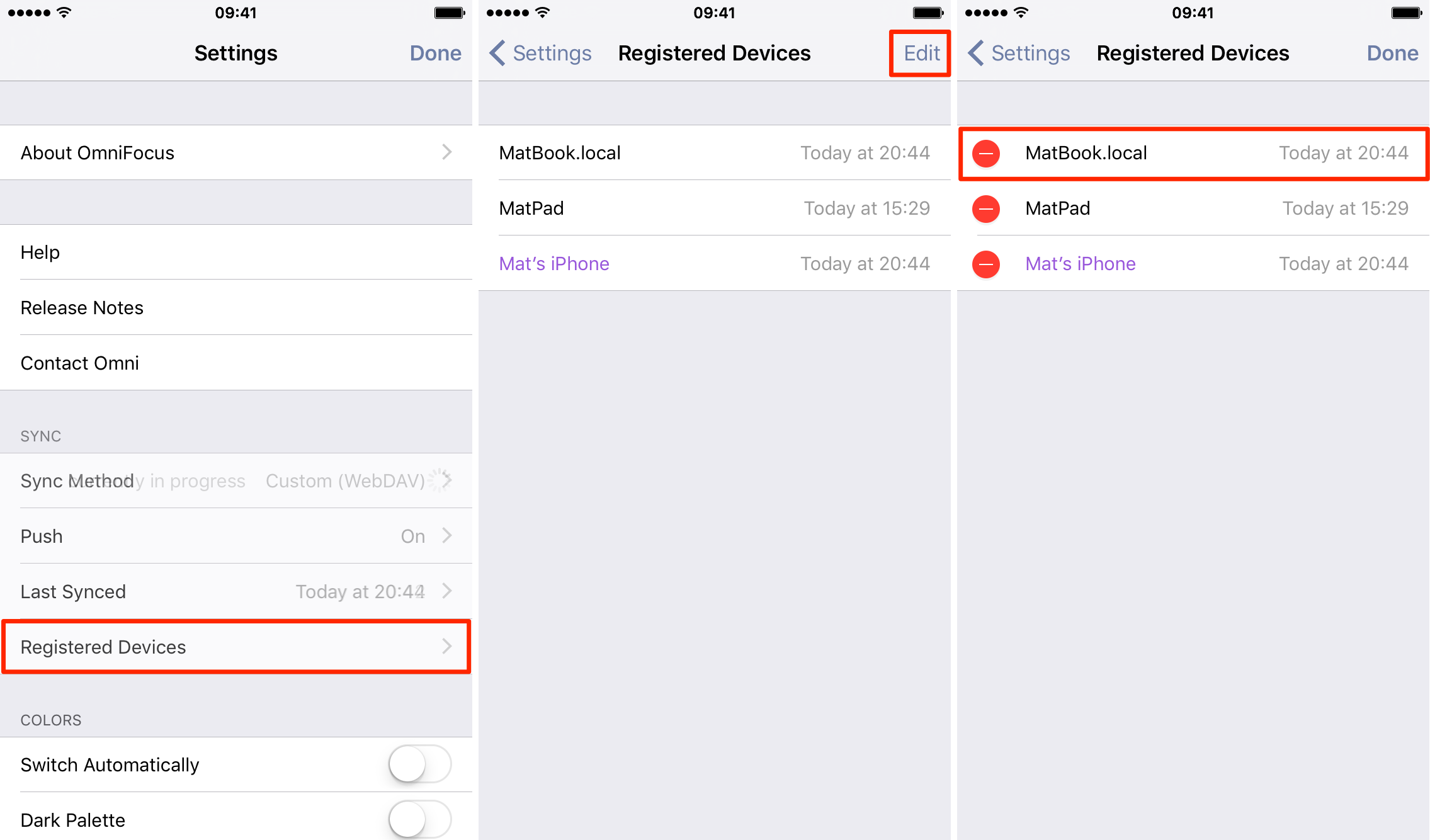 The list of sync devices can also be modified on iOS (see above screenshot). Access
Settings / Registered devices
, push the
Edit
button in the above right corner and remove the device of choice.
Should you at any point desire to reinclude a previously removed or new device into the list, simply activate that respective sync type on the device by accessing
Settings / Sync
method on iOS or
Settings / Synchronization
on the Mac.
Related articles
How to delete data from iCloud
Apple Watch: How to deal with the red exclamation mark
How to move TimeMachine to another hard drive
Speed up starting your MacBook
How to prevent password request in iTunes
Pictures: OmniGroup Inc.; Screenshots: Mathias Rhein;
Author & Editor: Thomas Landgraeber; Translation: Mathias Rhein