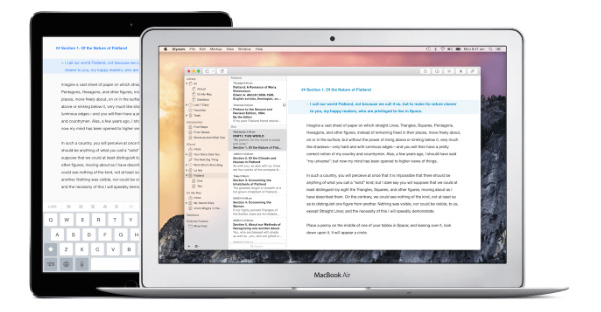 New iPad app and a refurbished Mac version
The Soulmen GbR from Leipzig, Germany recently overhauled their Markdown word processor app
Ulysses*
for big boys with a free update to 2.0. The new version blends in beautifully with Yosemite and has been carefully enhanced through many improvements. In addition there is now a full-featured and highly anticipated
iPad app*
to complement the road warrior setup perfectly.
Within just a few years Ulysses advanced to the first choice writing app for many authors, bloggers and journalists. Quite similar to the competitor
Scrivener*
, Ulysses offers an integrated document filing system as well as complete in-app workflows for writing, ranging from capture of little text snippets to the export of the final collection into a variety of formats. Together with the new version for the Mac for the first time an iPad companion app is supporting mobile writing needs through native iCloud support.
The so-called "Ulysses III" is therewith history. The new version is tagged Ulysses 2 when You are on a Mac while on the iPad its simply "Ulysses" without any versioning (yet)[Ulysses auf dem iPad heisst einfach nur Ulysses](). The improvements are thus far-fetched that even a new icon was designed. Instead of a U-shaped lute the logo is now graced by a beautiful butterfly in yellow-orange.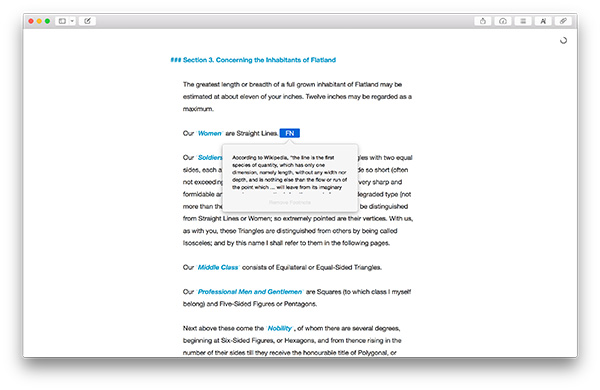 Ulysses 2 for Mac
The user interface of the Mac app was redesigned from the ground up, thereby now perfectly blending in with Yosemite as well as the upcoming El Capitan. Everything feels more polished and structured. The redesign itself is a careful integration of the old app philosophy into a new look. Anyone already familiar with Ulysses should feel right at home. Changes in regard to this philosophy are rather subtle.
There are new buttons available for preview/export, text statistics, navigation and Markup agenda located in the upper-right bezel area of the window. Here also a new spot is reserved for attachments. The respective popup windows can be detached from their position and placed somewhere else on the screen as little menu palettes.
Export and preview are completely refurbished. Now you can easily preview .txt and ePub while favorites now have their own group within the library. Also, new icons are indicating uploads, downloads, favorites and attachments. The icon set for visual classification of groups and folders has been increased to comfortable 200 icons.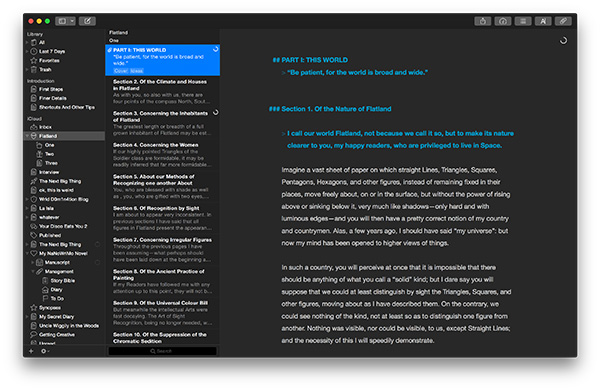 Next: Dark mode. Now it is possible to selectively paint sidebar, document list and/or editor area black. Apart from that, all remaining Styles available should continue to work flawlessly, most of them also working on the iOS version as well.
To open and edit plain text and Markdown documents in Ulysses simply drag them onto the Ulysses icon. This does not automatically add them to the internal library, but in a newly created "open files" temporary folder. From here you are free to decide storing the document in your library or save it to another space of your choosing. If no action is performed, changes will automatically be saved in the original file.
By the way : Ulysses 2 is a free update for all Ulysses III owners. You simply download the update via the Mac Store. For everyone else the price tag is at a steep ( $44.99).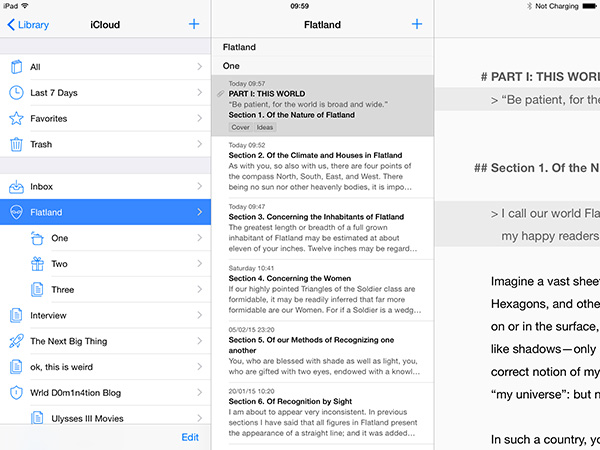 Ulysses 2 for iPad
After endless alpha and beta Preflight versions the iPad version finally was made publicly available in May- for a whopping (19,99€). *BUT* you actually get what you pay for: the developers managed to cram the full-blown Mac version into the iOS counterpart with all the options available on the mobile client. If you know the Mac version you will feel right at home.
iCloud sync is the standard mode of synchronizing iOS and Mac versions of Ulysses. But not only Text but also linked Themes and Styles. Consequently, the new transitioning system while moving from working on an iPad to the desktop as seamlessly as possible, called Handoff, works like a charm.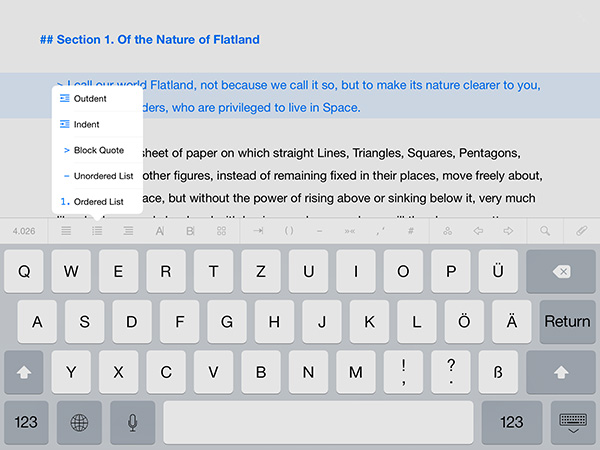 As an alternative to iCloud synchronization you could integrate any other Folder, be it on Dropbox, Box or other cloud-based services. Ulysses uses a special flavor of MultiMarkdown syntax and an architecture especially designed for iCloud, thereby creating an efficient and hassle-free writing environment.
With documents from other cloud service competitors "simple" Markdown will have to do. This is also true for the Mac App, which basically sports the same feature set. The few minor differences are iOS-specific and facilitate handling on iPads.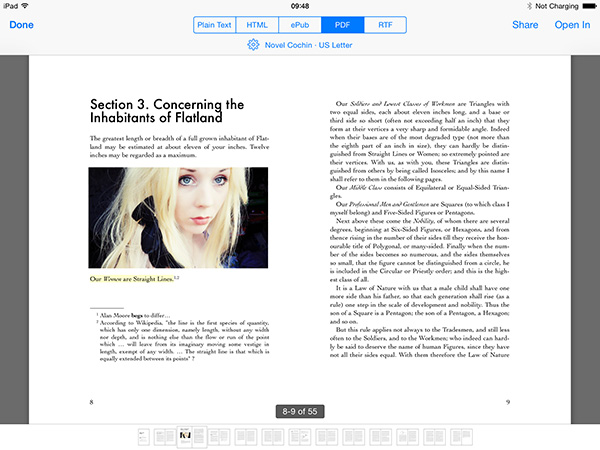 Preliminary verdict
We put both iOS and Mac versions through their paces and are impressed. Ulysses has been thoughtfully designed for the iPad and improved on the Mac through a free update. Look out for our full review due soon!

Requirements, availability and prices
Ulysses 2 for Mac*
requires OS X 10.10 Yosemite (or newer) and is available exclusively in the Mac App Store for $44.99.
Ulysses 2 for iPad*
runs on iOS 8.0 (or newer) and costs $19.99 in the iTunes Store.
Related articles
Review: Typed for Mac
Review 2Do for Mac and iOS
Review: Using DuckDuckGo as default search engine

*Ads and affiliate links: By ordering products through ads or links marked with an * on this page, we receive a small provision. You are thereby actively contributing to the continuity of GeekOut.io.

Pictures: The Soulmen GbR; Author & Editor: Thomas Landgraeber; Translation: Mathias Rhein