Firefox for iOS: Beta testers wanted
15/05/23 01:31 PM Filed in:
News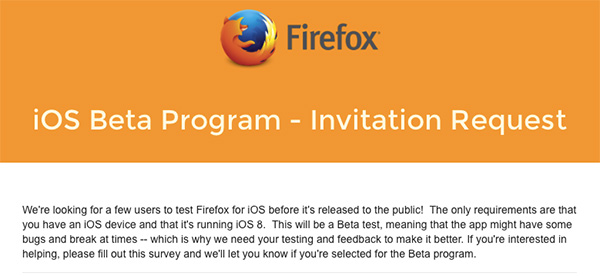 Popular browser will finally be released for iPhone & Co.
Seven years after the first iteration of iOS, one of the most popular web browsers of all time seems to finally make it to the iPhone and iPad:
Firefox
. At least Mozilla currently is searching for Beta testers willing to put Firefox for iOS through its paces.
The volunteers will contribute to the maturity of the app for its first official release. Exactly when this public release will be is currently unknown. The arrival of this open beta testing phase at least suggests that public launch is not too far off in the future.
In case you want to join the beta simply
apply for being invitet
to the tester pool by answering some basic questions and meeting some requirements.
Prerequisite for participation is an iDevice of your choice running iOS8. Mozilla is silent concerning the criteria the testers will have to meet, ensuring that there are no right or wrong answers in the online questionnaire.
Firefox fans are long awaiting the iOS version of their browser. Until now the statement was that the iTunes store only accepts browsers running Apples own web engine.
Whether Mozilla finally gave in, playing by Apples rulebook now is not known. Maybe the two companies agreed on a middle ground solution.
What remains certain is that Firefox for iOS is in the pipeline for a release not too far off.
Related articles
Apple Watch: How to deal with the red exclamation mark
Windows 10 comes in 7 different flavors
Legends: Why Steve Jobs' Mercedes SL never had a license plate

*Ads and affiliate links: By ordering products through ads or links marked with an * on this page, we receive a small provision. You are thereby actively contributing to the continuity of GeekOut.io.

Source & Image: Mozilla;
Author & Editor: Thomas Landgraeber; Translation: Mathias Rhein