Apple Watch: How to deal with the red exclamation mark
15/05/19 09:27 PM Filed in:
News
| Tips & Tricks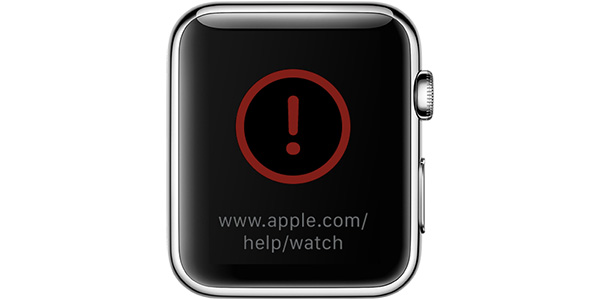 Restarting the device sometimes doesn't solve the problem
What do you have to do if your Apple computer watch is showing a red exclamation mark instead of the beautiful interface? According to Apple a serious error occurred which might not be simply solved by restarting the device.
In a
support document
released yesterday Apple is offering some options to handle the situation. First, force a restart on your watch. To do this press both button and digital crown for at least 10 seconds, until the Apple logo appears on the screen, indicating the restart.
Should the screen still display the red warning sign, you should immediately contact the
Apple Support
. In this case the watch needs to be repaired or exchanged. According to customer reports the company is currently very obliging and exchanges concerning devices without much hassle.
Currently, it is unclear whether this issue is only a seldomly occuring hardware problem or a widely distributed malfunctioning. Until now only a few occurrences have been reported.
Related articles
How to delete data from iCloud
Windows 10 comes in 7 different flavors
Legends: Why Steve Jobs' Mercedes SL never had a license plate

*Ads and affiliate links: By ordering products through ads or links marked with an * on this page, we receive a small provision. You are thereby actively contributing to the continuity of GeekOut.io.

Photo: Apple Inc; Author & Editor: Thomas Landgraeber; Translation: Mathias Rhein