15/12/08 04:36 AM Filed in:
App der Woche
| News
| Reviews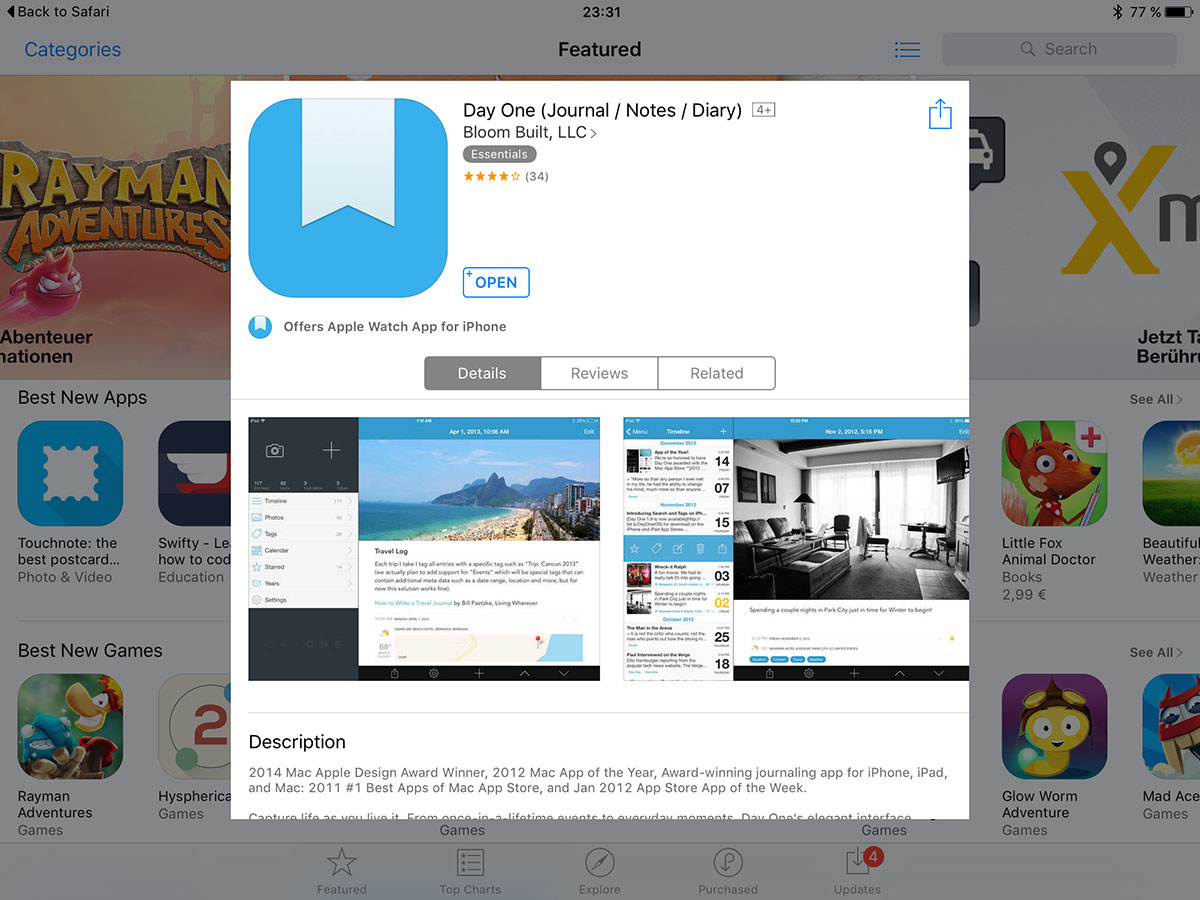 The best journaling app for Mac, iPad and iPhone
For some things in life there's just no middle ground - journaling seems to be one of those. From "why give a heck anyway" to "analogue or digital" and to the question, what exactly should be documented for the future self, there is a broad variety of opinions available.
Day One*
is plain(text) and simple. Available on any Apple writing device (Mac, iPhone, iPad), password-protected and always ready to process all the text and photos you prefer to keep in your record. The context-sensitive search works flawlessly, especially if combined with the built-in tags. All entries are accessible through spotlight search if so desired. Sync over iCloud or Dropbox will only attract attention by completely staying out of the way while perfectly keeping the app in sync – nice!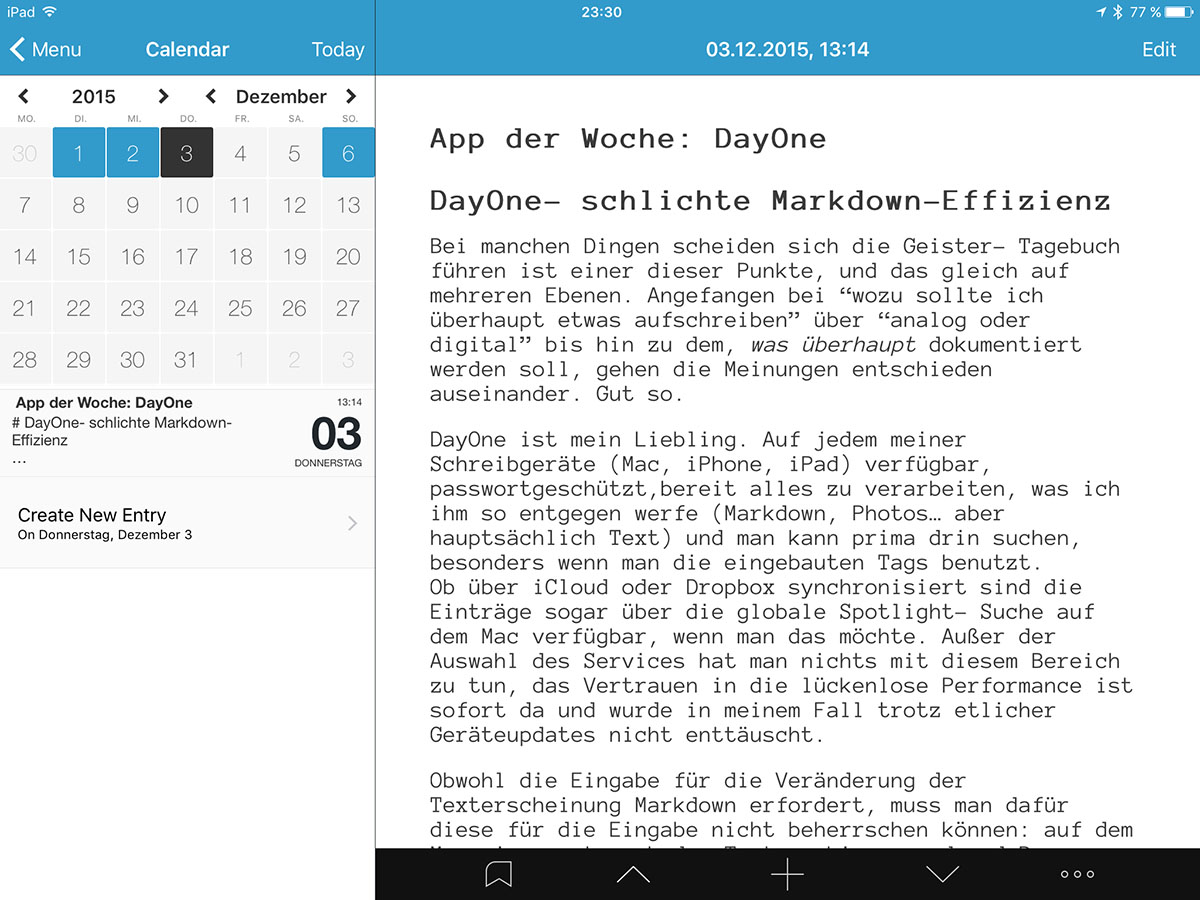 While Markdown is certainly encouraged as a syntax of entry, it is absolutely not required for using the app: On the Mac you can simply mark the text for highlighting, just as you know this from other text editors. Cmd+B then frames the marked area with the markdown syntax for bold, namely two asterisks.
You can also choose to completely remove Markdown parsing, but then you lose all capability to change text style. Those desiring to automatically track a host of other information are now able to log steps taken in the day (motion sensor required in the device) as well as the current music track.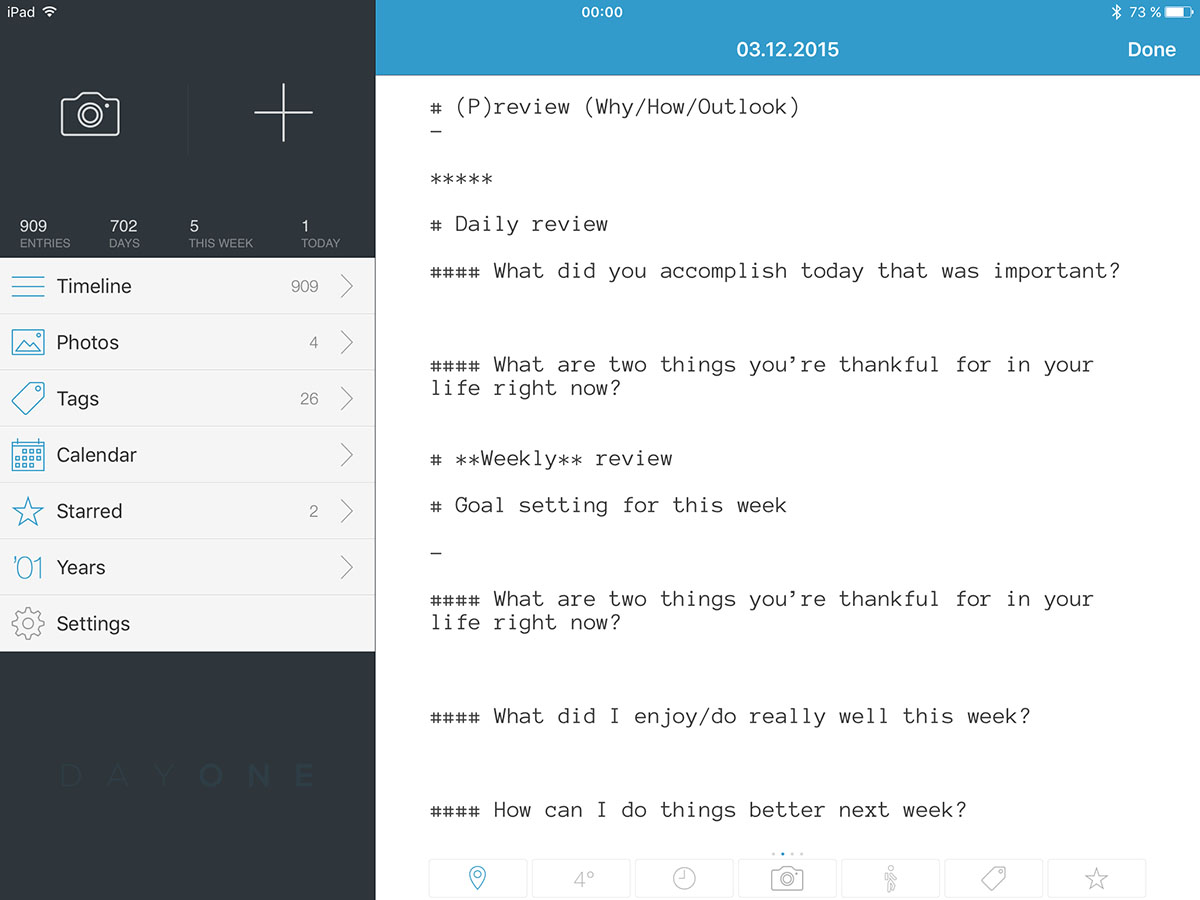 Of course, all the previously available automatic recording features are still within reach: place, weather, time, tags and a star for marking special entries will help you remember the whereabouts the entry was made in. Concerning the looks and feel of the app you are able to adjust these to your preference within in a certain perimeter.
I am personally using DayOne mainly for my daily journaling according to the "Getting Things Done" principle according to David Allen. Via TextExpander text snippets you can create a predefined grid of questions to document the days whereabouts in a focussed manner.
The verdict
Should You already write a diary and flirt with the option of going digital, you might consider DayOne as an option. With its subtle and pleasing combination of features the app keeps itself in second row, letting your entries take the front seat both during the writing process and the subsequent viewing. Reduction to the essential features is not an easy process for developers - DayOne expertly succeeds in keeping plain minimalist looks and individual settings in balance.
App Store Links
*
Day One for Mac:
Day One for iPhone & iPad
:
Related articles

App of the Week: iMachine 2 for iOS
Review: Using DuckDuckGo as default search engine on Mac and iOS
First Look: Ulysses 2 for Mac and iPad
Typed for Mac
2Do for Mac and iOS

Pictures: Bloom Built LLC; Screenshots, Author & Editor: Mathias Rhein